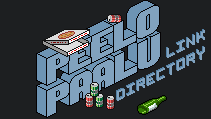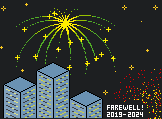 The End | (22/03/2022)
Decided it's about time I actually wrote this update and stopped putting it off. Peelopaalu is going to be going on hiatus for the foreseeable future, and I do not know if or when I will start to update it again. I've had a lot of fun working on this project these last two and a half years and I've gotten to meet some pretty cool people thanks to it, but all projects must come to an end sooner or later. I want to use this news post as a way to sorta' tie up loose ends, answer some questions I think people may have, and offer a method for people to get in touch should they want to ask anything else.
Why now?
There are numerous reasons, but the short and narrow is that I:
A) Don't have enough spare time.
B) Lack the energy/drive/whatever in what spare time I do have.
C) My life has changed dramatically since I started Peelopaalu.
Back in 2019 when I threw this thing together at my family's kitchen table while eating Chinese food and drinking slightly too much one night, I just got back to the UK from Australia with my now wife, didn't have a job, hadn't really figured out what I wanted to do with myself at the time, and had a shit load of spare time to throw at a project like this. Hell, originally, I didn't even plan to put it online until a friend heavily encouraged me to do so. These days, I'm married, have my own place, work constantly, have other projects that are neglected in favour of this one, and I just generally lack the drive to keep this thing going in my spare time for any longer - I simply have other things I'd rather do with my limited spare time. I've been thinking about this for over 6 months now, and the time has just come I guess. I've moved on.
What will happen to the site?
The site will cease to update starting today (this means the directory and obituaries will not be updated), but it will remain online until Neocities either dies or removes it themselves. I have no plans to take the site down myself.
Can I take over the site/project?
No, but I am happy to offer a direct rip of the site for people to use for static mirrors/link mining. Email me if you would like a copy along with where you plan to host it.
Will you ever start updating the site again?
Maybe one day when I have more time and feel like the time is right, but it definitely won't be for quite a while.
Do you have any other projects?
Yes, I currently run a sticker shop with my wife. Other than that? I have nothing ongoing right now, but I do have plans to maybe make a start on something this summer with a close friend of mine (same dude who helped make Peelopaalu what it is today). Maybe I'll put my dead Tumblr blog to use to catalogue development on that or something? I dunno.
So. That's it.. I think. Peelopaalu has been a really cool experience and I cannot stress enough how much fun I've had on this project since I first started it. Everything from chatting to random people who emailed me to share sites or just to say hi, chatting to Anons on 4chan about it, working with my close friends on it, it's generally all been a really positive experience from start to finish.
Some people I really want to extend my thanks to are these cool d00dz:
Cool Sites Thread Anons (yes, all of you)
Everyone who took time out of their day to email me about the site in any form over the years.
Whether you emailed me to submit/report links frequently, wrote code for the site, or just generally offered support for the project in some way, each of you are listed here for a reason. Thank you all so much for being a part of what made Peelopaalu great, and I hope you'll check out other things I fart onto the internet in future.
Take it easy,
Experimental SpaceHey Group Created | (18/12/2021)
So here's a thing. Techquickie (Linus Tech Tips) recently made a video on one of the websites listed on the directory: SpaceHey, specifically. Given that this video is likely to cause a mass-influx of traffic to SpaceHey, I figured that now may be a good time to point out that I made a group for Peelopaalu on there a while ago when testing out some of SpaceHey's feature's and completely forgot about it for like 2 months.
I'm not much of a fan of socialmedia sites, but I am interested in how something like a forum/bulletin board/something could benefit Peelopaalu in some way. Streamlining making link-submissions for people who don't have a Neocities account, or don't want to email me directly easier is something I have been wanting to work on for a long time, but given the limitations of how Neocities works, I am going to have to rely on some sort of external service for this one way or another, whether it's email, whether it's a forum, or something else entirely.
So, to close up! If you're already on SpaceHey and want to check out this little experimental group thing I'm messing with, feel free to join and let me know how you'd like to see the group used (if at all), or if you have another (probably better) idea than this, again, feel free to email me and let me know about it.
Merry Christmas, and Happy New Year in advance,
December Update! | (02/12/2021)
Latest update has been added to the directory - 20 new websites, which I get is a lot smaller than most of my updates, but I've had a busy last few months and just haven't had as much spare time to work on the site. Hopefully you guys enjoy what I've added anyways!
Oh yeah, I also just rolled out the Xmas theme for the year, hope you like that too!
If the theme looks wonky or the new links aren't showing for you, please remember to CTRL+F5 to see changes take effect. Cheers :-)
Merry Xmas and have a happy new year!