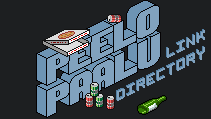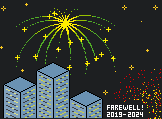 Next Update Coming In About A Week (16/04/2021)
Just a quick news post this morning: Next big link update will be coming in a little over a week. I'm getting married on the 22nd of this month, so I doubt I'll manage to get anything out before then. Maybe expect something around the 25th/26th?
Peelopaalu's New Look (Blue is Back, Baby!) | (02/04/2021)
Oh God, what in the Hell was I thinking with that green theme? Is it too late to play it all off as an April Fools joke? Yeah, that's totally it... I swear!
On a more serious note, hope you like the new theme and favicon! Not much more to say. Feedback is still very much welcome via email, Twitter, or on my Neocities profile page if you would like to chime in to report problems, suggest improvements, etc!
Big shoutout and my thanks go out to surenaga and Has Roly-Polys World Tour been found yet? for their feedback on the last God-awful layout. Super appreciate it! I'm sure surenaga especially will be pleased to know that the theme is now light enough to where any residents in the Peelopaalu towers won't be getting absolutely bankrupted by electricity bills to keep the lights on!
WTF?! Where'd The Blue Go?! | (01/04/2021)
Short one, but worth making a news post about (I think) - I'm currently experimenting with different colour-schemes for Peelopaalu and I'd really appreciate your feedback! Like the new colour? Hate it? Want to suggest a better colour? Let me know via email, Twitter, or on my Neocities profile page!
To add: Not all elements across the site are currently sporting this current green colour-scheme (namely the favicon, link-to-peelopaalu buttons and 404 image) - This is because this theme isn't final and is still very much subject to a complete change for another colour entirely if either I find something I like better, if someone suggests something neat to me, or if I just feel like going back to blue at the end of the day.
Nothing more to say about it really, just keeping you in the loop!
Some (Small) Site Updates! | (27/03/2021)
Quick news post – Small update has been rolled out to the site, so please remember to CTRL+F5 to see the changes! Here's what's changed and a bit of info about what might be coming soon:
- I've opted to split the main directory into pages of 250 as opposed to pages of 700 in order to make browsing the main page less headache-y. I'm hoping this will help people keep track of where they last left off when browsing the site and generally improve the overall user experience. More links will be coming soon(ish) as you all probably know by now that I like to update in blocks of 50 – 100 links at a time as opposed to doing small updates here and there.
- The little towers/buildings in the Peelopaalu banner have been edited slightly. This update isn't really important, but hey, figured I'd let you know anyway.
- The Articles page has been added to the site navigator across all pages but completely lacks any content to read at this point in time – I do plan to continue writing the first article for this page over the next few weeks. Not sure when it'll be ready though. My original first-choice for a site to write about fell-through, so I'll be writing about a project a friend and I created a few years back instead.
That's it for now! I'll keep you all posted if anything else happens in the meantime.